Life as a Mural—An Interview with Susan Kaprov
By Robert A. Schaefer, Jr., January 15, 2007
Ten years ago I met some friends who are photographers and were going to an opening at the International Center of Photography in New York. Among them was a woman I didn't know—Susan Kaprov. She and I began talking about our work, and I found out that she was doing some work in Munich, Germany where I had lived for six years before moving to New York. We had a lot to share about that city, and it started a long-lasting friendship. I am fascinated by the way that Susan uses photography to make large murals. Recently, I visited her at her studio in Brooklyn Heights to discuss her work.
Robert Schaefer: What drew you into visual arts and more specifically photography?
Susan Kaprov:
I grew up in New York City, a place where art and culture were easily accessible. I think visual artists know at a very young age that they have this intuitive drive to create art. Around the age of 14 I started visiting the art museums and galleries, which opened up a beckoning world of potential creativity. The art spoke to me, seduced me, and I strongly connected with it. Although in my ultra-conservative family, art was something that only 'fringe types' did, I discovered that the museums were where the magic was. So I knew at an early age this was for me. I graduated from the City University of New York with a major in art history and a minor in biology. I have a life-long interest in science as well as art. After a year as a visiting artist at Dartmouth College, I was then on my own as an artist in the wilds of New York. I also traveled extensively during this time, when travel was cheap.
My father was an amateur photographer who constructed a makeshift darkroom in the hallway of our small apartment in the Bronx. He fashioned an enlarging machine out of the metal container of a car headlight. I watched him develop photographs and observed the magic of an image appearing out of nowhere in the eerie red light of the room. It was as if a ghost emerged and decided to enter our world. Even the developer fumes had the feeling of alchemy and magic.
Robert Schaefer: How did you get into making murals with your work?
Susan Kaprov:
I thought that after years of doing 'studio art' in the privacy of my studio and showing the work occasionally in galleries was slow, predictable and not particularly exciting. I thought it would be adventurous to try something different such as large-scale public artworks that involved collaborative teams, something sweeping and breathtaking seen outside museum and gallery walls and available to the public at large. It was a risk ultimately worth taking.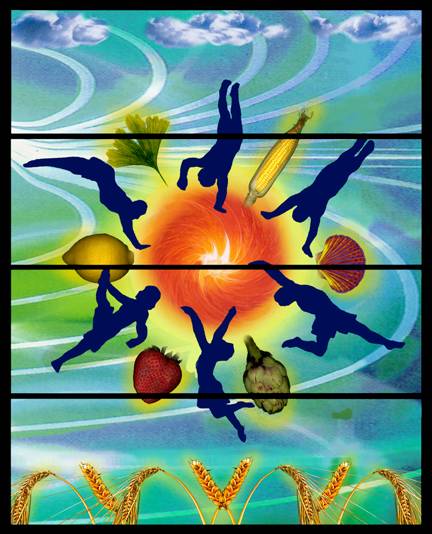 Utopia
Photos on fused glass panels.
24' high x 16' long
Commissioned by City of Orlando Health Sciences Center
Robert Schaefer: Where have some of your projects been made and where have they been installed?
Susan Kaprov:
My public art projects can be seen all over the country and in Europe. Urban Helix, a fifty-four foot fired enamel on glass wall piece was created for the entrance lobby of Polytechnic University at MetroTech Center in Downtown Brooklyn. In Meriden Connecticut, I created a hundred and ten foot wall mural in the conference area of a specialized high school for gifted teenagers. Precambrian Waltz, commissioned for the Port Authority prior to 9/11, is a forty-foot photomontage that 'narrates' in non-linear time, the construction of the World Trade Center. Because of its historical context, Precambrian Waltz is currently under consideration for relocation near Ground Zero. There are several other projects that are in Amsterdam, Jacksonville, Fl., Atlanta and other locations.
Robert Schaefer: What kind of projects are you currently working on?
Susan Kaprov:
I'm in the process now of exploring new materials and media as a means of expanding my work with photomontage. Media such as fiberglass, fused glass panels, and photographic mosaic tiles are in the works. I am currently designing a photographic video wall for a major communications company. Collaborations with a prominent video and sound artist are also under way. I recently completed a commission for a research institution in Orlando, Florida that fuses digital technology and traditional photography in an unusual manner.
Robert Schaefer: Where do you see your work going in the future?
Susan Kaprov:
That's hard to say because there are so many random, unexpected things that can happen. A sudden shift due to a lucky 'accident' can change the course of your work. As an artist, I must remain open to experimentation. Picasso said it was the accidents that were the most important aspect of his creative process, and I share that view. I consider myself stylistically multi-faceted, with no formal allegiances of any kind. I love taking risks with my work. That gives me the greatest pleasure, even when it fails.
The work I'm doing now originates totally from inside my own mental processes and is not connected to any (conscious) external references. These images are non-photographic designs created on the computer. They are meant to be translated on a large scale into other media such as fired enamel on glass, woven fabric, glass mosaic and other materials. They are truly 'landscapes of the mind,' and seem to have a futuristic, visionary quality to them. For me, they exist as singular, almost utopian expressions.
Susan Kaprov can be contacted at susan@kaprov.com Studio: 718.624‑2775