Susan Kaprov
Drawings & Works on Paper
---
Contact: susan@kaprov.com Studio: 718.624‑2775
---
A series of imaginary, dystopian cities that addresses urban life and the natural world in the midst of the vital issue of climate change.
Medium: Oil, wax pencil, graphite, acrylic, stencil, photomontage on archival paper.
Dimensions variable.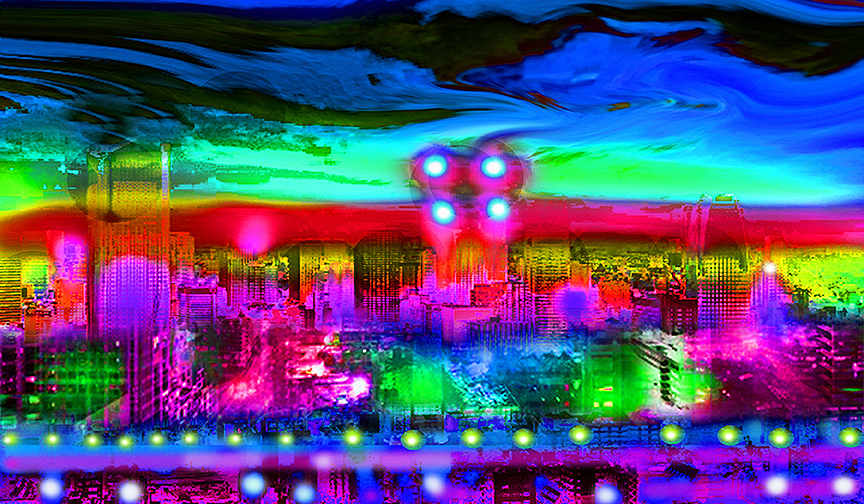 The Dense City: Black Clouds
---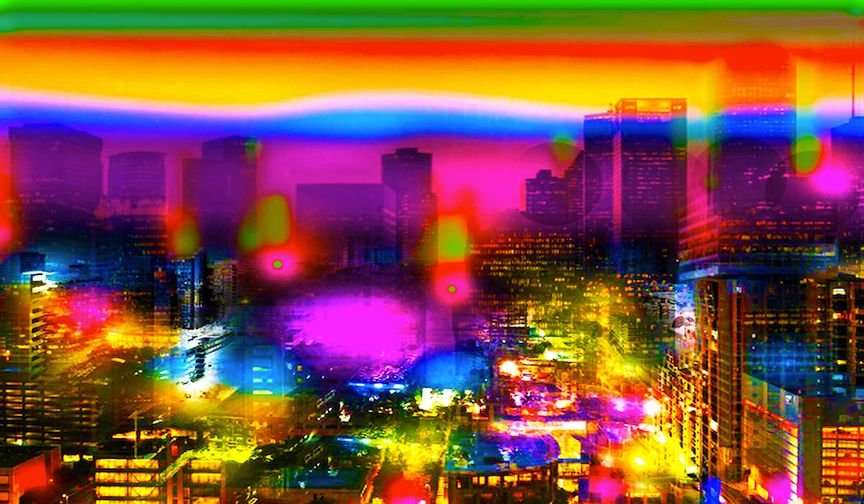 The Dense City: Brighter
---
The Dense City: Burning
---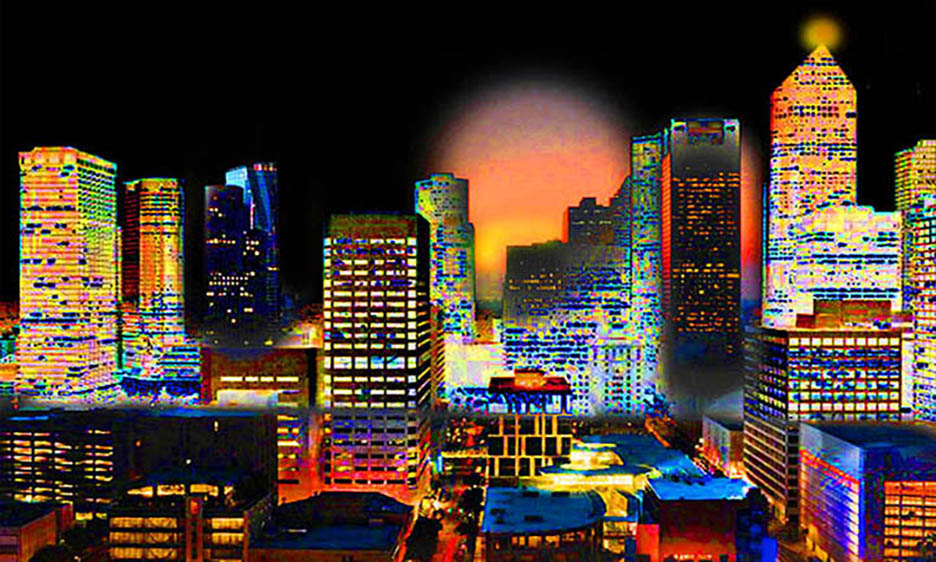 The Dense City: Eternal Night
---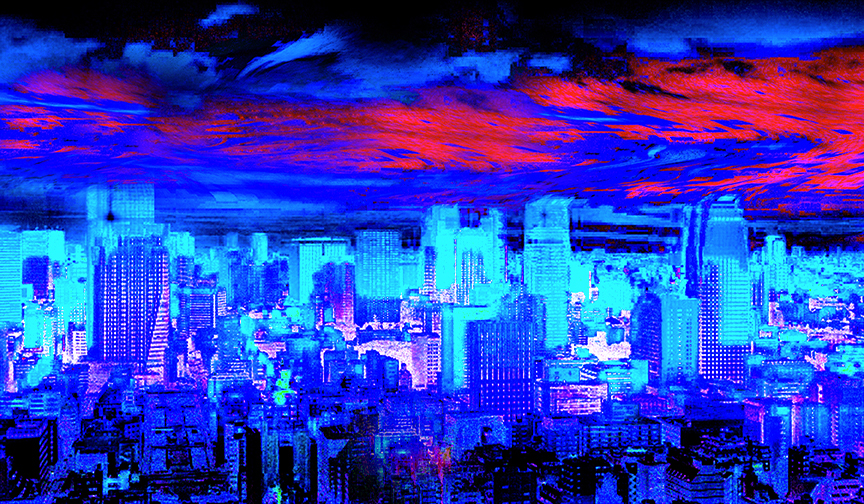 The Dense City: Magenta Sky
---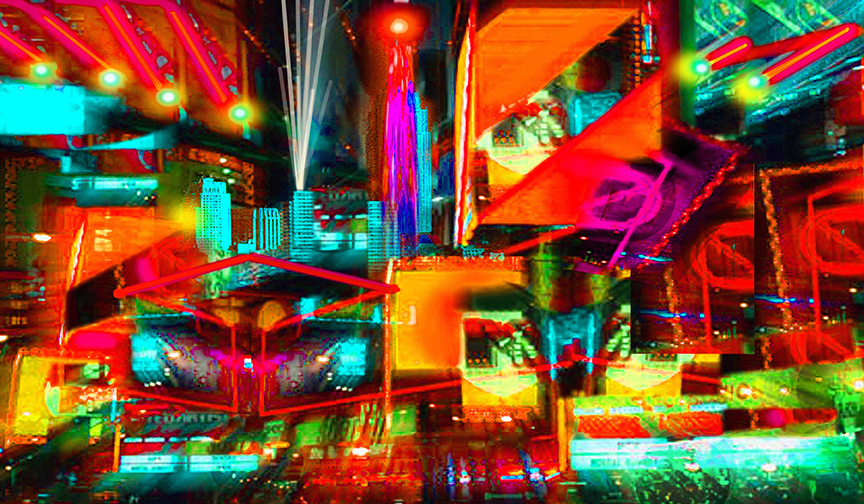 The Dense City: Red Version
---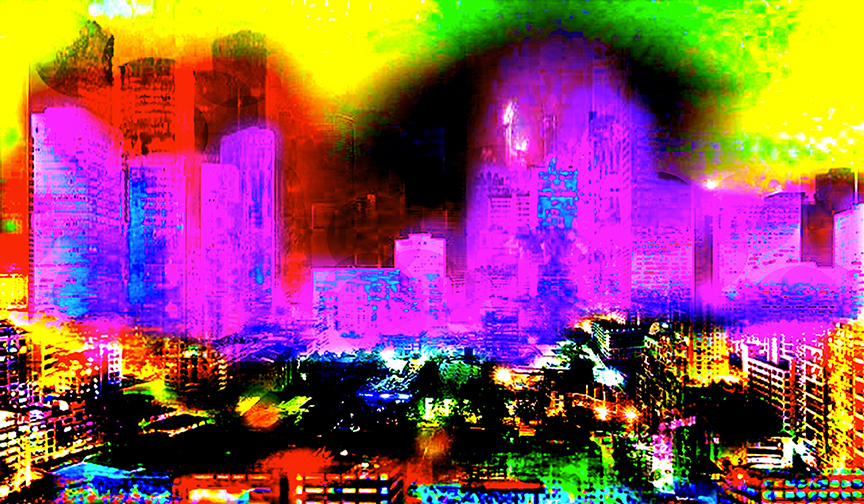 The Dense City: Yellow Sky
---
The Dense City: Hot Town, Installation View
7.5 ft. h x 28 ft. w
Dye transfer on board mounted to aluminum.
---
Pastel, gouache, metallic ink, pencil, wax, on black etching paper.
Each drawing: 32" x 44"
---
Gouache, ink, pencil on board.
Each drawing 16" x 20"
May be viewed under UV or natural light.
Exhibited at The American Museum of Natural History, Hayden Planetarium NY
---
The Seven Deadliest Sins (Redux)
Medium: Computer-generated archival pigment prints with hand coloring.
Printed on Hahnemuhle rag paper. Dimensions variable.
The 'Seven Deadliest Sins' have been an integral part of Western moral philosophy for many centuries. The greatest challenge for me was to formulate a visually radical, contemporary interpretation of these ideas using pure abstraction and intense color to evoke symbolic meaning, human emotions, and spiritual power. With each 'sin', I've attempted to permeate the subtle barrier that separates the conscious from the unconscious mind. Ultimately, however, everything is left for the viewer to freely interpret.

Wrath
---

Envy
---
Lust
---

Gluttony
---

Sloth
---

Greed
---

Pride
---