Susan Kaprov
Bio
---
Contact: susan@kaprov.com Studio: 718.624‑2775
---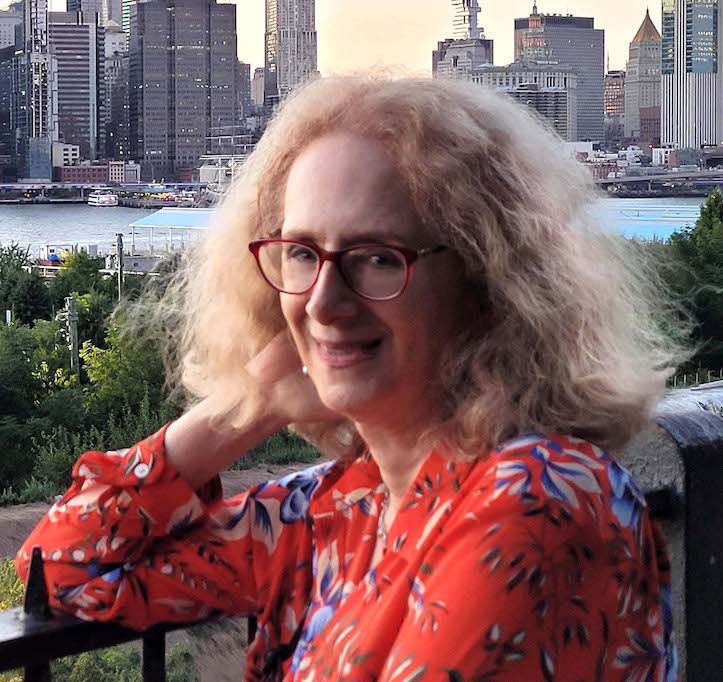 Susan Kaprov is an award-winning artist known for her multi-disciplinary practice which encompasses photography, painting, drawing, video animation, hand-colored pigment prints, and fired enamel on glass. She has completed major public art commissions in the US and abroad, dividing her work between public projects and artworks developed in the privacy of the studio.
Although Kaprov has degrees in biology and art history, she is basically self-taught, her "teachers" being the world's great museums, libraries, and public collections. She considers her studio a "laboratory" and her work a series of "experiments" where self-imposed concepts and ideas are explored in great depth. By creating groups of related works in the same general idiom, she can work through their ramifications with unrestricted freedom.
She states, "My voice is actually a collection of voices, all authentic and all residing within me. I try to embrace life with its myriad of incongruities, unsettling ambiguities, and inherent instability while experiencing through art the grandeur and universal connectedness of a dynamic, living world."
Kaprov's work is represented in the permanent collections of museums worldwide such as the Museum Boijmans-van Beuningan in Rotterdam, Metropolitan Museum of Art, NY, MoMA NY, the Yale University Art Gallery, the Corcoran Gallery of Art, and the Whitney Museum of American Art which recently acquired sixteen of her groundbreaking photomontages. Articles and reviews of her work have appeared in the New York Times, Art News, Newsday, Art in America, Riot Material, Artists Studios Projects.com, Instagram, and many books and publications.
When not in the studio, Kaprov writes and performs monologues at various cafes and clubs in and around NYC.
---
Permanent Collections
Air & Space Museum, Washington, DC
American University Art Museum, Washington, DC
Amoco Corporation, Chicago, IL
William Benton Museum of Art, Storrs, CT.
Brooklyn College Library Art Collection, Brooklyn, NY
Museum Boijmans-van Beuningen, Rotterdam
The Brooklyn Museum of Art, Brooklyn, NY
Bristol Meyers Squibb Corporation, NJ
The Buhl Collection, New York, NY
Corcoran Gallery of Art, Washington, DC
Finch College Museum of Art, New York, NY
The Franklin Companies, Los Angeles, CA
The Gernsheim Collection, Switzerland
Hexcell Corporation, Arizona
Petra Kratch Collection, Frankfurt
Library of Congress, Washington, DC
Metropolitan Museum of Art, New York, NY
Munson-Williams-Proctor Institute, Utica NY
Museum of Modern Art, New York, NY
National Museum of American Art, Washington, DC
New York Public Library, New York, NY
Pfizer, Inc., New York, NY
Princeton University Art Museum, Princeton, NJ
Prudential Insurance Co. of America, Newark, NJ
Rotunda Art Gallery, Brooklyn, NY
Rose Art Museum, Waltham, MA
Rutgers University, New Jersey
Santa Barbara Museum of Art, CA
University of Texas Art Museum at Austin, TX
Yale University Art Gallery, New Haven, CT
Visual Studies Workshop, Rochester, NY
Whitney Museum of American Art, NY
---
Public Art Commissions
Atlanta-Ledger Enquirer Newspaper HQ, Atlanta Ga.
The City College of New York (CUNY)
Connecticut State Commission on the Arts
Dormitory Authority of New York State
General Services Administration, Washington, DC
Independence Savings Bank Headquarters, NY
Kings County Medical Center, Brooklyn, NY
Liberty Science Center, Jersey City
New York City Percent-for-Art Program (Board of Education)
National Aeronautics and Space Administration, Washington, DC
Polytechnic University at Metrotech Center, NYC
Port Authority of New York & New Jersey
Pfizer, Inc. NY
Prudential Insurance Co. of America HQ, Newark, NJ
Queens College Science Center (CUNY)
Rutgers University, NJ
Warner-Lambert Co, Groton, CT
---